High quality belly dance classes, workshops, and performance that is modern, unique, and a whole lot of fun.
---
Upcoming Classes, Public Performances, & News
Fall 2019 Class Registration is Open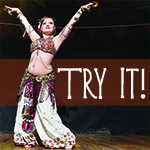 Belly dance is delightful! Want to try it out for yourself?
Pay-What-You-Can Trial class: check out out with no commitment at our fall pay-what-you-can class on Wednesday, September 18, 7:00-9:00pm. Details and registration here.
We're offering both technique and specialty classes this fall in Lakeview (SW). You can drop in, sign up by the session, or get extra savings with our new All-Access Pass. Check out the offerings on the class page.
Performance: Summer Street Festivals
Calgary is famous for it's weekly street festivals throughout the summer. Beautiful Unusual is thrilled to have become regular performers at several of these! We're working on booking our 2019 dates. So far we've confirmed:
Memorial Park Pride
We're THRILLED to be part of Calgary Pride this year! We'll be performing at Memorial Park Pride at 3:15pm on Saturday, August 24, 2019.
Event: Heather Labonté in Calgary
We're THRILLED to be again hosting the fabulous Heather Labonté (Toronto, ON) for another weekend of dance workshops, and a beautifully unusual show. Details are still being announced, registration will open March 1.
Show: Friday, September 13, 2019
Workshops: September 14 & 15, 2019
Gift Certificates
Not sure what to buy the person that has everything? How about belly dance classes! We offer beautifully designed, very gift-able gift certificates in any denomination. Click here to buy online.
Many more performances and events are in the works for for 2019. Stay tuned!
Interested in booking one or more dancers? We offer performance and workshops for special events.
Don't want to miss aerenything? Join our email list. Save Save Save