About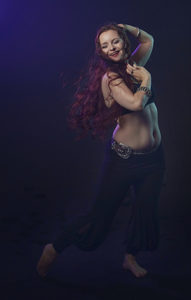 Beautiful Unusual is the creation of Kristine Jennes, contemporary belly dance performer and teacher. As a solo performer and director of the Beautiful Unusual performance group Kristine focuses on technical excellence and creative discovery. Middle Eastern movement is re-imagined in a modern western context, as she experiments with eclectic music, choreographic form, and improvisation.
As a soloist Kristine performs regularly in the Calgary area, and as a guest performer nationally. Performances include BC BellyFest in Pentiction, BC, The Lavish Project 2015 in Toronto, ON, A Night at the Caravansari in St. John's, NL, and others. She directs the newly established Beautiful Unusual performance group, is 1/4 of the collaborative group Nightingale Dance, and regularly works with other Calgary artists on special projects. She performed with The Neighbourhood Strays Bellydance Troupe from 2005-2010, and was Director of this group from 2008-2010. In 2010 she joined forces with Vanessa Paddock to found Seraka Dance Company, which continues to perform regularly in St. John's. In 2012 and 2013, she learned and performed with Mythri Tribal Belly Dance Collective.
After experimenting with belly dance in university, Kristine studied for several years with Andrea Kitta starting in 2005 who instilled in her a lifelong love of dance. In addition to an intensive solo practice, Kristine continually trains with top tribal and traditional belly dance teachers by attending workshops locally, nationally, and internationally. She is currently a Cultivate in Rachel Brice's 8 Elements program and Level II (Lavender) certified in The Dark Side Dance Program. She is a certified teacher in American Tribal Style® belly dance.
Under the mentorship of Andrea Kitta, Kristine began teaching workshops and classes in 2006. She has developed and delivered beginner through advanced courses and topical workshops – topics have included technique, stagecraft, improvisation, props, costuming, and choreography. Classes in St. John's were offered through The Neighbourhood Strays, The Healing Circle, Memorial University of Newfoundland, and Wild Lily Dance Centre. In Calgary, she has taught at the Shawnessy YMCA, MarketSpot YYC and as an independent instructor via Beautiful Unusual. She mentors several private students and offers private classes for small groups in addition to introductory event workshops.
For more details on Kristine's performance, teaching, and training experience, please see her full dance CV.